Lady Buffs fall in straight sets
FORT PIERRE - Thanks in part to some inconsistent serving and lack of experience, the Stanley County Lady Buffs fell in straight sets to the Gregory Lady Gorillas Thursday in Fort Pierre.
The Lady Gorillas dominated the Lady Buffs for the majority of the contest as they won 25-7, 25-11 and 25-9.
The Lady Buffs struggled from the very beginning as Gregory took advantage of some passive play to take seven of the first set's first eight points. In what seemed like a blink of an eye, Gregory continued to take advantage of service errors on its way to a 25-7 first set victory.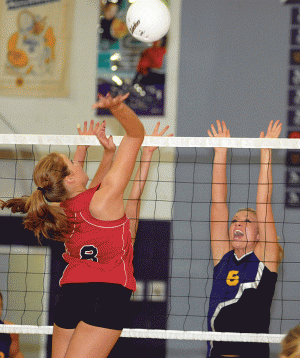 Lisa Johansen | For the Capital Journal
Stanley County's Jenny Ganske goes up for the block in Thursday's match against Gregory. The Lady Buffs were swept by the Lady Gorillas.
"They knew where to place the ball where our defenders were not; all in all they were a competitive and experienced team. When you match up an experienced team like them and an inexperienced team like us you will see those differences," Stanley County coach Kylie Mundt said.
Stanley County momentarily matched the aggression of Gregory in the second set as Shelby Gienger's successful attack gave the Lady Buffs a 5-4 lead.
Gregory was quick to take the momentum back, scoring nine consecutive points until Gienger broke the streak with another attack.
Inconsistent serving once again doomed the Lady Buffs in the second set as the Lady Buffs dropped the second set 25-11.
"We struggled very much with serving tonight and it killed us for the most part," Mundt said. "We practice serving everyday so that's something that's going to have to come together with our team within a few games."
The Lady Gorillas once again showcased their aggressiveness and experience in a third set rout of the Lady Buffs.

The set was essentially over before it started, as Gregory scored the set's first 10 points. Hailey Norman momentarily broke the momentum with one of her two solo blocks which sparked a small run for the Lady Buffs, cutting the lead to seven.
The Lady Gorillas quickly turned the tables with 13 consecutive points on their way to a 25-9 victory. The Lady Gorillas had the edge in experience as its roster featured nine seniors compared to Stanley County's four.
"Most of their players played varsity last year compared to our two. Their intensity and enthusiasm for the game prevailed," Mundt said.
In a losing effort, Norman had eight kills to go along with her two solo blocks. Gienger also had 14 digs for Stanley County.
The Lady Buffs will look to get their season on track Tuesday when they take part in a triangular with Timberlake and White River. The triangular will take place at 4:30 p.m. in Fort Pierre.